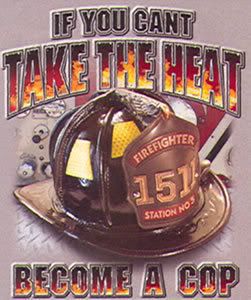 Fire Inspector
- Extra Help $33.25 - $40.41 hourly Santa Rosa, CA This recruitment is being conducted to fill FOUR EXTRA-HELP vacancies in the Emergency/Fire Services Department. This list may also be used to fill future extra-help vacancies as they occur during the active status of this employment list.
The Iowa Department of Public Safety is currently accepting applications for
Fire Inspectors-State Fire Marshal Division
: The Department expects to begin its next training academy in late May 2008. The application deadline is November 1, 2007.
Minimum qualification and application procedures are located HERE
.
Deputy Chief
- Fire Inspection Program Jefferson City Missouri SALARY RANGE: $44,340.00 - $52,000.00 Final filing date AUG 31.
Click here for more info.
Division Chief / Fire Marshal
Marina, California $6717 - $8164 Deadline: 09/20/2007
Firefighter-Paramedic Capital City Fire/Rescue, Juneau, Alaska - Closes 09/18/07 Firefighter-EMT I,II,III - Closes 09/18/07 Deadline: 09/18/2007
Firefighter-
Garland Texas 18 & Breathing (oh yes....HS grad or GED) Each newly appointed Firefighter will receive a starting annual salary of $42,876 and $47,271 after one year.
For more info click HERE!
Deadline for filing Sept 14, 2007.
Fire Inspector II
, City of Chula Vista, CA Closes Aug 31. Min Quals: Any combination of experience and training that would likely provide the required knowledge and abilities is qualifying. A typical way to obtain the knowledge and abilities would be two years of responsible experience in a variety of fire prevention work and training equivalent to the completion of the twelfth grade supplemented by successful completion of college level courses in Fire Prevention, Fire Science, Fire Protection, Engineering, Plan Checking, Building Construction or a related field. License or Certificate: Possession of a valid California driver's license. P.C. 832 and California State Fire Marshal's courses in Fire Prevention 2A, and 2B and Fire Investigation 1A and 1B and Fire Inspector II exam within one year of appointment.
For more info click here!